Thundershirt
Price $39.95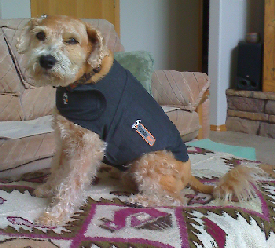 Great new product! The Thundershirt is based on the concept of using light pressure to reduce anxiety and fearful reactions in dogs. Similar to the Touch body wraps we have been using for years, this product is an easy to apply and effective tool to help your dog cope with environmental stresses.
Use for a variety of situations that typically cause anxiety or fearful responses:
Fireworks, thunder storms, and other noise-related fears.
Car travel.
New environments that cause concern: Vet office or groomer.
Separation anxiety.
Over arousal and hyper behavior.
Issues with focus.
Use in conjunction with TTouch and positive training.
Select Size and Place Order Through PayPal: